April 19th, 2015 | by kirbyfukunaga

i had a great time surfing with Morita-san. first time surfer and first time to hawaii.


balance is key to surfing. and looking forward too. good job Morita-san!


surfing will change your life in a good healthy way. and will also make you smile a lot more. thank you Morita-san!


Time Magazines top 100 world's most influential people just came out. so stoked to see japanese writer Haruki Murakami on the list. sold billions of books and has trillions of followers, including me.


first i read 1Q84, then Norwegian Wood, then i just finished this book called Colorless. all great books and i'm looking forward to the next one.


Maki-san sent me this instagram post from zaknoyle. this is Seth Moniz getting barreled at Ala Moana Bowls. such an awesome photo by Zak Noyle. by the way, where is Seth now? Seth is in Fiji chasing that huge south swell with photographer Zak Noyle, and mad man big wave rider and deep free diver Mark Healey. i'm sure Seth is learning a lot about surviving in the water in this 1 week on the island of taverna. he will come home tomorrow a man for sure. can't' wait to hear the stories!
April 19th, 2015 | by kirbyfukunaga

baby Mateus comes to my house almost everyday. while i'm working on my computer, he comes to my room and jumps on my bed. then he stares at the photos hanging on my wall. he points at it and says "uuuurfing." which means surfing. he's been doing that for the past few months so i can tell he was getting interested.


i'm sure he's picturing himself surfing too. baby image training? this is how i learned so this is how i teach. it has to be a good first experience or else the kid will never again touch the water. i've seen too many parents throwing their kids on boards too early and that kid will never surf in their life. you really have to take it slow and make sure it's the right time, right conditions, and right feeling.


then when i ask him "where is the surfboard?" he walks to the living room and points to the surfboard.


he stares at it from top to bottom. i'm sure he's imagining himself riding it.


then Mateus gives me the face "hey uncle, when you going take me surfing?" so i just didn't take this baby and throw him on my board. i've been mentally training him to surf. i've been creating a desire, a dream, a fantasy. when we got to the beach yesterday, he already knew what we where there for. he was staring at all the surfers coming in and out of the water. this kid can't even talk but i know what he's thinking.


and after we surf, like every surfer, he takes a little nap. in the baby seat and in his diapers. haha.
check out the video of Mateus first wave. so cute!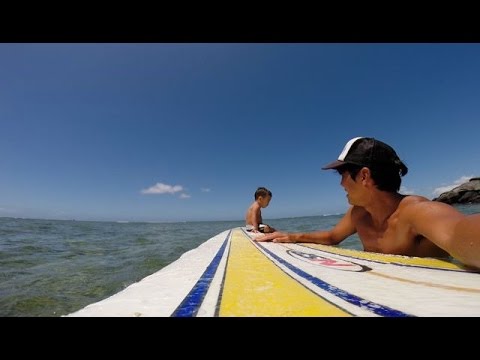 April 19th, 2015 | by gonaminori
That's not nice!
Good morning 5:50am.
Ala Moana waist high. Morning sickness. Afternoon cleaner.
Waikiki super small at knee high.
Diamond Head chest high sets but very windy.
East winds at 25mph.
Super sunny and warm day.
Going surfing.
Have a wonderful day!